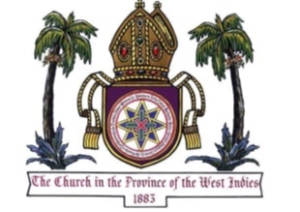 The Church in the Province of the West Indies covers a Geographical Area: 276,910 Sq. Km
And Population: 5,320,600. In this region 770000 Anglicans come from the dioceses of Bahamas & the Turks and Caicos Islands, Barbados, Belize, Guyana, North Eastern Caribbean and Aruba, Trinidad and Tobago, and the Windward Islands.
The Church in the Province of the West Indies is one of 38 member provinces in the worldwide Anglican Communion.[1] The church comprises eight dioceses spread out over much of the West Indies area. The present position of Archbishop and Primate of the West Indies is held by John Holder. Drexel Gomez was the previous primate until 2009, and has retired. The church is also part of the Global South.
The Anglican Church came to the West Indies with the original British settlers during the 17th century. The clergy came as chaplains to governors, tutors to the families of wealthy planters or merchants and rectors of parishes. They were not under any ecclesiastical authority. The bishop of London ordained and licensed them but had no power to appoint or remove them. A significant change came in 1824 with the creation of the diocese of Jamaica (which included the Bahamas and the settlement in the Bay of Honduras) and the diocese of Barbados (which included the Leeward Islands, the Windward Islands, Tobago, Trinidad and Guyana). Later in the 19th century, six other dioceses were created to constitute the present eight. The Province of the West Indies was formally established in 1883. Venezuela, formerly part of the diocese of Trinidad, became a separate diocese in 1975 and separated from the province in 1980.
The West Indies became a self-governing province in 1883 because of the Church of England missions in territories that became British colonies. It is made up of two mainland dioceses and six island dioceses, including Antigua, Barbados, Belize, Guyana, Jamaica, the Bahamas, the North-Eastern Caribbean and Aruba, Trinidad and Tobago, and the Windward Islands. Great emphasis is being placed on training personnel for an indigenous ministry. The island locations and scattered settlements make pastoral care difficult and costly.
Primate:
Archbishop of West Indies & Bishop of Barbados
The Most Revd. & The Hon Dr John Holder
Provincial Secretary:
Mrs. Eleanor Lawrence
Provincial Secretariat:
Bamford House
Society Hill
St. John
BARBADOS
Tel: (246) 423-0842/3
Fax (246)423-0855
[email protected]
MISSION:
TO BUILD FOSTER AND PROMOTE YOUTH MINISTRY TO AND WITH YOUTH IN THE CHURCH IN THE PROVINCE OF THE WEST INDIES".
VISION:
We encourage Dioceses to provide opportunities where young people can fully participate in the life of the church.
We seek to deepen dialogue and unity among the young people of the Church in the Province of the West Indies through our activities.
We seek opportunities to dialogue with the wider community on creating a more effective ministry with provincial youth.
The Provincial Youth Commission comprises one bishop as chair and 8 members being one from each diocese.
Current Membership:
The Rt. Revd L. Errol Brooks, Bishop of NECA, Chairman
Ms. Sharon Lamy, Trinidad, Secretary
Mr. Clifton Nedd, Windward Islands, Assistant Secretary
Mrs. Tiffany Hall-Sweething, Bahamas & The Turks and Caicos Islands
Mr. Craig Mears, Jamaican & The Cayman Islands
Mrs Deborah Domingo, Belize
Ms. Deon Mayers, Barbados
Fr. Reid Simon, North Eastern Caribbean and Aruba
Ms. Deanna Walcott, Guyana with Suriname and Cayenne